Saturday, 13 August 2005
Disney Princess
You Are Pocahantas!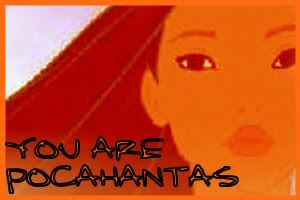 Free-spirited and wise. You have a strong passionate spirit that touches and changes all who know you. The wisdom and common sense that you have is really what guides you through life. Even so, you also have a very playful side that loves adventure and excitement.
posted by JenShinrai @ 3:22:00 am

About Me
Name: JenShinrai
Home: Antipolo, Rizal, Philippines
About Me: You can call me Jen, Shinrai, or Lulu. I want to try new things, especially outdoor activities. I'd like do things with someone or some people too. I think that sounds fun.
See my complete profile
Roll-Out!
Previous Post
Archives
Template by